Managed Services (Onsite)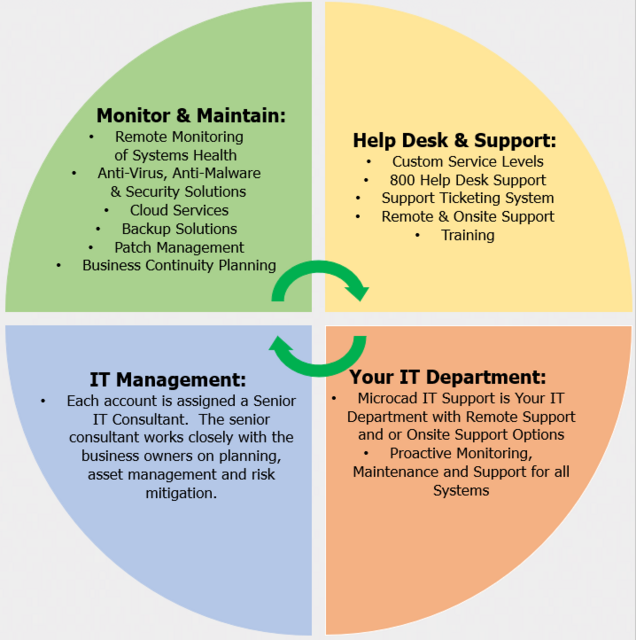 We provide a first class IT support and outsourcing service to small and medium sized businesses i(2-500 users). We offer both contracted and non-contracted solutions.
Our engineers work around the clock ensuring your IT is fully functioning. We know how important business continuity is, so we go the extra mile, so you can concentrate on things that matter, your own business.
If it's IT, we support it, that's what we do, no frills, no jargon which no one understands. Just excellent support for your business IT, combined with superb customer care.
MICROCAD
provides a complete "end to end" network design and installation service from the initial site survey & performance requirement determination, through cabling installation, network infrastructure hardware installation & configuration, server & client PC installation, client software & applications software installation, to the final commissioning, testing and documentation of the completed network installation..
Site Survey:
A cabling engineer will attend site and document the physical and environmental characteristics of the site and establish the network performance and cabling installation requirements.
Network Design:
Network topology & infrastructure hardware are specified to meet agreed performance and environmental requirements.
Network Cabling Installation:
In collaboration with selected partner companies, where necessary, supply and install structured cabling systems for data, & voice if required.
Network Infrastructure Hardware Installation:
Patch Panels, Hubs, Switches & Routers, supplied, installed configured to meet operational requirements.
Server Installation & Client PC Installation:
Server Hardware and Server Software installed and configured as per agreed requirements. Client Applications Software installed as per standard install procedures, customised to particular requirements.
Installation Hand-over:
Once the installation has been completed to the customer's satisfaction, the documentation is handed over and the necessary support agreements put into place.
Onsite Service Contracts
In addition to a full line of IT hardware and software, Microcad offers a comprehensive roster of technology services designed to help you save time and resources.
Lower Costs and Optimize IT
Microcad provides a comprehensive suite of IT Lifecycle solutions to lower total cost of ownership of IT assets. The Insight Integration solutions provide a cost effective alternative to performing simple to complex integration tasks on the IT equipment you purchase to run your business.
Reduce Rollout Cost
Microcad Integration Services can perform the complex tasks of software imaging, hardware configuration and user preparation within our state-of-the-art Integration Labs at a substantially lower cost than performing the same tasks at your own facility.
Simplify Deployment
Microcad solutions empower you to successfully deploy new technology with true plug-and-play convenience, simplifying the work to be performed in the field, and enhancing the overall experience for the end user.
Discover the benefits of integrating your IT purchase through Microcad.
Lower total cost of ownership
Improve end-user experience
Enable plug-and-play options for deployment
Reduce initial installation failures
Optimize the value of your IT assets, while minimizing the overall total cost of ownership with Microcad Integration services.
Advanced Integration and Custom Configuration
Microcads Advanced Integration and Custom Configuration services provide a cost-effective alternative to performing simple and complex integration tasks on the IT equipment you purchase. Our specialists augment your current IT staff resources to deliver solutions that are compatible with your existing infrastructure right out of the box. Your business benefits from:
Simplified IT rollouts
Augmented IT resources
Minimal business interruption
Scalable configurations set for growth
Protection against DOA products and failures
Hardware Installation Services
Is your organization going through a technology refresh? Do you need assistance deploying and configuring hardware? Hardware Installation Services, a Microcad custom services solution, can make the process as hassle-free as possible.
Hardware Installation Services can include:
Installation of new equipment
De-installation and moving of existing equipment
Configuration (if necessary) to assure compliance with your firm's network infrastructure.
Training software/hardware need
Operating systems
Antivirus and security programs